CrossCad/Ware is a world leading CAD data translation toolkit licensed by over 100 software vendors that allows them to integrate state-of-the-art data translation technology into their own applications.
CrossCad/Ware is a CAD license independent API based access for 2D, 3D and PMI data from Datakit, providing fully integrated transfers into your software application and offers 2 different ways to translate data. With CrossCad/Ware there are no CAD APIs or CAD licenses required.

CrossCad/Ware SDK offers Fully integrated data transfer into the your software application based on conversion of all entities one by one including data attributes processing.This gives a powerful grasp on the transferred data. This solution meets the needs of most of Datakit customers (Software companies) that seek to go beyond mere file-to-file transfer with sophisticated capability for processing data attributes. CrosCAD/Ware SDK supports 2D, 3D, Features and PMI data.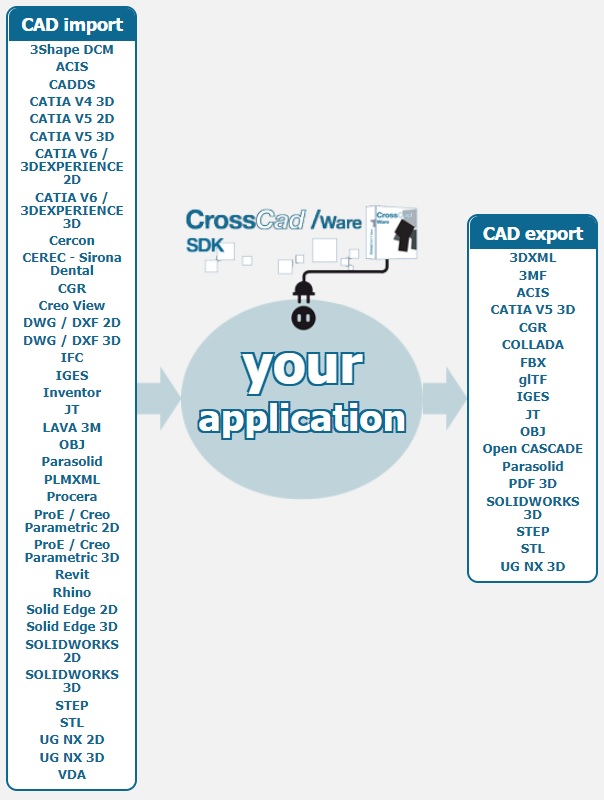 CrossCad/Ware File-to-File offers file based data transfers using intermediary files providing an easy solution to implement Data import and export capabilities. APIs access is provided to allow for full integration within your application with minimal effort required. CrossCad/Ware File-to-File is licensed as pairs of import/export formats.
Import/Export combinations of CrossCad/Ware File-to-File